Serpent-Seal™ Line of Dock Seals & Shelters
Product Announcement from Steel Guard Safety Corp.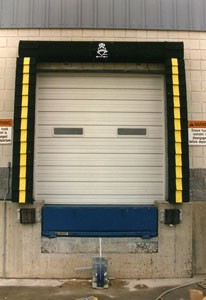 Steel Guards Serpent-Seal™ Dock Seals allow for Truck Trailers up to 8' to conform to a tight seal around the edges of the dock seal. Benefits of the Serpent Dock Seal:
Double-Layered Reinforced Side Members - Two layers of heavy-duty fabric(vinyl/hypalon) is sewn over the front and the interior sides of the dock seal for extra protection against wear and a longer life.


Foam Head Member - to accommodate large truck heights as well as chain weighted drop valance to seal the occasional lower truck.


Steel Guard Pleats - allow for a longer life span by effectively stopping wear when the trailer moves "up" and "down" on the dock seal from forklift access and weight fluctuation. (Optional)


Wedged Side Members - extend the foam into the door opening to seal the trailer and stop wear and damage to the wood backboards. (Optional)


F-Flap Head Member - designed to accommodate generally 10' and higher dock heights. The F-Flap contacts a 4" thick foam pad sewn into heavy-duty fabric with extra wear areas on contact points. The F-Flap can be unhinged with straps when the full height of the door is needed. (Optional)


Adjustable Head Member - allows for the seal to accommodate any truck height by simply using the pulley system to move "up" and "down" as the truck backs into the dock area. (Optional)
Steel Guard can manufacture other custom dock seals including Rail Dock Seals, Collapsible Dock Shelters, Inflatable Dock Seals. Contact us today so we can guide you to the proper solution for your application.
---