Serpent Seal Rigid Dock Shelter
Product Announcement from Steel Guard Safety Corp.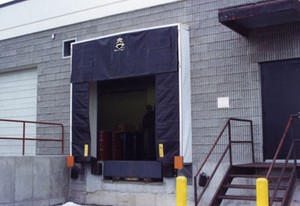 Steel Guard's Serpent-Seal Line of RigidDock Shelter is the flexible dock shelter when obtrusive and unpredictable trailers are the "norm" in your dock area.
Double-Reinforced Pleated Head Curtains - Heavy duty fabrics and Steel Guard Pleats are lined up right at the contact points of the trailer on the side of the Head Curtain to prevent wear.
Double-Reinforced Pleated Side Curtains - Extra pleats on the interior side of the side curtain to reduce wear on the shelter.
Guide Stripes - yellow vinyl guide stripes allow for easy line-up for trailers moving into the dock shelter.
Bottom Draft Cushions - Foam filled cushions with marking "NO STEP" to help seal the bottom of the shelter.
Foam Edges - Fabric covered foam edges on the interior area of the side curtains help create a tight-seal to the trailer.
Head Frame - 2" x 6" pressure treated lumber covered with a translucent fabric with a "peak" to allow rain run-off, keep the dock clean and well lighted.
Side Frames - 4" x 6" pressure treated lumber covered with a translucent fabric create extra light for a bright, safer working area
Steel Guard can manufacture other custom dock seals including Rail Dock Seals, Collapsible Dock Shelters, Inflatable Dock Seals. Contact us today so we can guide you to the proper solution for your application.
---