Steel Guards Auto-Guard™ Curtain Walls
Product Announcement from Steel Guard Safety Corp.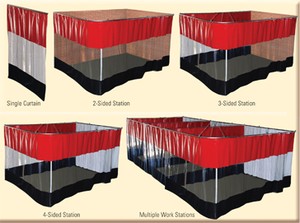 Steel Guards Auto-Guard™ Curtain Walls are your cost-effective, simple solution to keeping your work areas safe & isolated. The curtain walls create a rock solid barrier between work areas, keeping out paint fumes, welding arc, aluminum & steel dust, or toxic chemicals. Use them in all of your Body Shop operations such as:
Prep Stations
Paint Booths
Estimating Bays
Wash Bays
Welding Areas
Grinding/Sanding Areas
Auto-Guard™ Curtain Walls are manufactured with our propriety Steel-Scrim® super polyester reinforced vinyl laminate, the toughest on the market with 406 pounds per square inch of tensile strength. Auto-Guard Curtain Walls:
Meet OSHA and Fire Marshall standards (CFM,NFPA-701, ATSM E-84 class I)
Protect your workers in any working condition(-20 to +200 degrees)
Resist tears. The advanced, proprietary tri-lateral design causes the vinyl to bunch up and collapse upon itself when punctured, automatically re-sealing itself!
Prevent water and mildew damage
Protect against UV rays
Resist rot
Resist most chemicals (even caustic acid)
Cost less than 10% of the investment required for permanent walls
Track mounted curtain walls can be opened or closed in a matter of seconds and are available in virtually any size to meet your exact space-dividing requirements. You can request a quotation or contact us today to discuss your application and requirements.
---