Compact Smart Sensor
Featured Product from STEGO, Inc.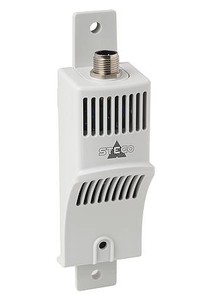 Analog interface
Small size
Easy clip and/or screw fixing
High accuracy
Quick connection (M12 plug-in connector)
Large temperature and humidity range
Various application areas (IEC 61010-1/DIN EN 61010-1)
Smart Sensor
CSS 014 | DC 24 V
The compact Smart Sensor CSS 014 electronically records temperature and humidity and converts the measured data into a standardized analog 4 to 20 mA signal. The converted value signals can be utilized or further processed by a control or monitoring unit, e.g. a PLC control. The Smart Sensor is suitable for use in a wide variety of applications and can be used even in harsh environmental conditions, such as wind power.
Calculation Tool
Determine the required heating performance of heaters and fan heaters for applications.
STEGO Elektrotechnik GmbH
STEGO - Perfect Thermal Management: Since it was founded in 1980, STEGO Elektrotechnik in Schwaebisch Hall, Germany, has been developing, producing and selling an evergrowing range of products for the protection of electric and electronic components. All STEGO products for cabinets and enclosures - heaters, fan heaters, filter fans, LED-lamps, thermostats, hygrostats and accessories - are aimed at reaching optimum climatic conditions in the most varied environments, en-suring that all sensitive components work reliably at all times. STEGO is now represented at 12 locations and by more than 200 sales partners worldwide.