FILTER FANS AND MORE
Featured Product from STEGO, Inc.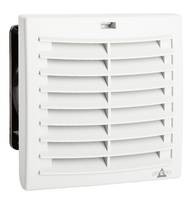 FILTER FANS AND MORE
Extreme high temperatures in enclosures and switch cabinets may cause malfunctions of electrical and electronic components. Our filter fan range, roof filter fans and further ventilation products prevent overheating and the impairment of installations reliably.
Watch>>STEGO Company Portrait
Follow us on:
STEGO Elektrotechnik GmbH
STEGO - Perfect Thermal Management: Since it was founded in 1980, STEGO Elektrotechnik in Schwaebisch Hall, Germany, has been developing, producing and selling an evergrowing range of products for the protection of electric and electronic components. All STEGO products for cabinets and enclosures - heaters, fan heaters, filter fans, LED-lamps, thermostats, hygrostats and accessories - are aimed at reaching optimum climatic conditions in the most varied environments, en-suring that all sensitive components work reliably at all times. STEGO is now represented at 12 locations and by more than 200 sales partners worldwide.