Struggling to find thermal management components?
Featured Product from STEGO, Inc.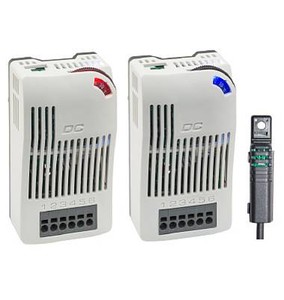 Struggling to find DC thermal management components?
Well-made accurate components for DC designs can be difficult to find. The STEGO DCT 010 thermostat provides a wide range of DC voltages and an optional external sensor to protect your installation from heat, cold, and humidity. Your DC design will perform beautifully in any environment!
ELECTRONIC THERMOSTAT
DCT 010 | DC 20 TO 56 V
DOWNLOAD PDF
High DC switching capacity
Adjustable temperature
Small hysteresis
Optical operating display (LED)
Integrated switch module
Precise measurement via an external sensor
The electronic thermostat with integrated switch module is used to control DC powered devices with high capacities in control and switch cabinets. Heaters, coolers, filter fans or signal devices can directly be controlled via an internal electronic circuit. The external sensor can be positioned freely anywhere in the control cabinet for precise temperature measurements. Additionally, this thermostat is available in versions that not only measure temperature via the external sensor, but also the relative humidity.
Watch>>STEGO Company Portrait
Follow us on:
STEGO Elektrotechnik GmbH
STEGO - Perfect Thermal Management: Since it was founded in 1980, STEGO Elektrotechnik in Schwaebisch Hall, Germany, has been developing, producing and selling an evergrowing range of products for the protection of electric and electronic components. All STEGO products for cabinets and enclosures - heaters, fan heaters, filter fans, LED-lamps, thermostats, hygrostats and accessories - are aimed at reaching optimum climatic conditions in the most varied environments, en-suring that all sensitive components work reliably at all times. STEGO is now represented at 12 locations and by more than 200 sales partners worldwide.