Thermal Smart Sensor CSS 014
Featured Product from STEGO, Inc.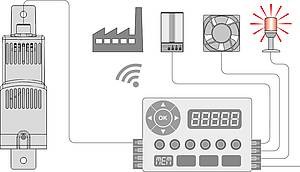 Smart Sensor CSS 014
More than just a Climate Sensor
The new Smart Sensor CSS 014 is not only a climate or temperature/humidity sensor, it also combines three functions in one: sensor, interface and transmitter.
At the heart of the device is a small-sized complex, intelligent sensor based on the latest microtechnology and microsystem standards.
Specializing in thermal management, we have decided to initially provide a smart sensor for temperature and humidity monitoring. The temperature measuring range of -40 to +60°C (-40 to +140°F) can be altered, if needed. The humidity measuring range of 0 to 100% rH already covers a sufficiently large range. Functionality of the Smart Sensor can theoretically be expanded to analyze data such as dew point, air-flow, dust contamination or gases. The individually captured data gets converted into a useable electrical signal. The CSS 014 offers an industry-standard 4-20mA analog signal. Another common standard would for example be the digital IO-Link.

Data gets transmitted via sensor cable or wirelessly through a control terminal or monitoring unit, also allowing the CSS 014 Smart Sensor to be used for remote monitoring. Captured data can then be protocolled or further measures be defined and implemented. Functionality of the CSS 014 Smart Sensor herewith goes beyond just measuring of temperature/humidity. Another advantage is that installation is possible not just inside enclosures, but also in other applications with suitable atmospheric conditions.
Sensors
Condition Monitoring (CM) takes an important part in predictive maintenance of systems and machines, among others in most of todays industrial control panels and enclosures as well as in a large variety of applications involving process management of any sort. Condition Monitoring hereby provides tools to identify and remedy developing problems that may otherwise potentially lead to failures or complete stand-stills. Basis for this is a continuous or regular data collection of relevant parameters. Devices like so-called Smart Sensors gather i.e. temperature and humidity data and convert these into analog or digital outputs.

Our NEW downloadable PDF Catalog has arrived! Take a moment to explore our new look as well as new products, all designed to provide you with the latest in thermal management solutions.
Calculation Tool
Determine the required heating performance of heaters and fan heaters for applications.
STEGO Elektrotechnik GmbH
STEGO - Perfect Thermal Management: Since it was founded in 1980, STEGO Elektrotechnik in Schwaebisch Hall, Germany, has been developing, producing and selling an evergrowing range of products for the protection of electric and electronic components. All STEGO products for cabinets and enclosures - heaters, fan heaters, filter fans, LED-lamps, thermostats, hygrostats and accessories - are aimed at reaching optimum climatic conditions in the most varied environments, en-suring that all sensitive components work reliably at all times. STEGO is now represented at 12 locations and by more than 200 sales partners worldwide.