VARIOLINE LAMP WITH SOCKET
Featured Product from STEGO, Inc.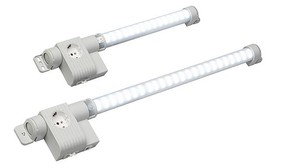 VARIOLINE LAMP WITH SOCKET
LED 121/122
High luminous flux
Integrated socket
Durable and maintenance free LED technology
Integrated power unit
Daisy chain
On/off switch, movement sensor or connection for external door switch

Powerful and compact. The Varioline 121/122 LED light with an integrated electrical socket for use in enclosures allows for the power connection of laptops and diagnostic devices. Its LED tube emits more than 1,000/1,700 Lm thereby illuminating even very large enclosures in their full depth and height. The glare-free, 120° rotatable light tube uses Mid-power LEDs with a service life of 60,000 h
STEGO Elektrotechnik GmbH
STEGO - Perfect Thermal Management: Since it was founded in 1980, STEGO Elektrotechnik in Schwaebisch Hall, Germany, has been developing, producing and selling an evergrowing range of products for the protection of electric and electronic components. All STEGO products for cabinets and enclosures - heaters, fan heaters, filter fans, LED-lamps, thermostats, hygrostats and accessories - are aimed at reaching optimum climatic conditions in the most varied environments, en-suring that all sensitive components work reliably at all times. STEGO is now represented at 12 locations and by more than 200 sales partners worldwide.