OEM Solutions and Flexible Spectrometer Systems
Product Announcement from StellarNet, Inc.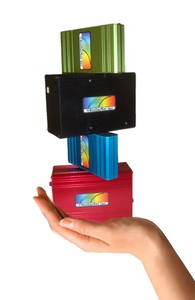 StellarNet's wide range of miniature spectrometers and complete line of light sources, optical fibers, and sampling accessories combine with software development tools to enable easy integration of various optical sensing techniques.

Offering Rugged and High Performance Spectrometer Solutions
StellarNet spectrometers are designed rugged with no sockets or moving parts inside an aluminum enclosure for extreme durability to suit virtually any application or environment. Internal detectors are bolt mounted while gratings and other optical components are mill-bonded resulting in vibration tolerant and shock proof alignment. The spectrometers are powered via high-speed USB2 interface.
Offering Customizable Software and Development Tools Free with Instrument
The powerful SpectraWiz® spectrometer software is provided free of charge with every spectrometer instrument. For OEM customers, StellarNet includes drivers and customizable software for operation.
Offering Wide Range of UV-VIS-NIR (190nm-2300nm) Application Solutions:
Transmission - test lenses, filters and more!
Absorbance - kinetics, fluorescence, concentration
Color - measure solids, powders, liquid & textiles
Light & LED - integrating spheres and NIST traceable intensity calibrations
Thin Film - measure film thickness at a low cost
Chemometrics - multivariate analysis
Raman- raw material ID for lab, process, field environment
Have an application?...We have a solution!
Contact an application engineer today to discuss your project requirements and have a system tailored specifically for you.
StellarNet manufactures precision fiber optic spectrometers for portable and multi-channel industrial applications, which enable low cost spectroscopy solutions. Our expertise in electro-optics, software design, and applications development, provides unmatched price performance in the global instrumentation market
Since 1991, StellarNet has been producing low cost miniature fiber optic spectrometers and accessories for industrial and academic applications worldwide. StellarNet is now one of the world's leading producers of ruggedized spectrometers for wavelength ranges of 190-2300nm and attributes its success to the eXtreme engineering of its internal optical benches, gratings, extruded electronics and detectors, and airflow optimized aluminum enclosures. StellarNet spectrometers contain no moving parts, detector sockets, or screws, allowing for extended life and eXtreme durability.
StellarNet offers preconfigured Color measurement Systems, SpectroRadiometer and LED systems, Raman, Thin Film and Optical Measurement systems, SpectroChemistry Systems, Spectrofluorometers, PORTA-LIBS-2000 and Plasma Emission Monitors, and Raman systems.
Technical Support Check out StellarNet's new online technical support!!!
Free SpectraWiz Software Spectroscopy Software It's like a "Swiss Army Knife" of spectroscopy application tools that include customizable LabVIEW and VBA Excel programs and more
View all StellarNet products in an easy to navigate PDF format.
ContactUs@StellarNet.us
*StellarNet Inc. : Developing Intelligence from Light since 1991
---