Operate our Mini-Spectrometers via Standard WiFi
Product Announcement from StellarNet, Inc.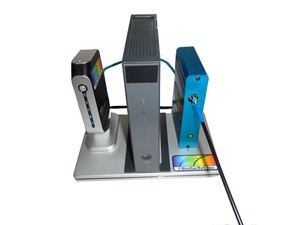 StellarNet, the leading manufacture of miniature spectrometer systems and accompanied SpectraWiz® software since 1991, has just introduced a device which now enables users to operate and control StellarNet spectrometers from a distance, perfect for remote monitoring and process control environments.
The StellarControl™ Device enables PCs with WiFi to run all StellarNet
spectrometers attached to the kit, which may optionally be battery powered.
SCD converts USB to Ethernet that feeds high speed WiFi wireless router.
Works on WinXP, Win 7-32bit and Win7-64bit. Starting at $299
StellarNet manufactures precision fiber optic spectrometers for portable and multi-channel industrial applications, which enable low cost spectroscopy solutions. Our expertise in electro-optics, software design, and applications development, provides unmatched price performance in the global instrumentation market
Since 1991, StellarNet has been producing low cost miniature fiber optic spectrometers and accessories for industrial and academic applications worldwide. StellarNet is now one of the world's leading producers of ruggedized spectrometers for wavelength ranges of 190-2300nm and attributes its success to the eXtreme engineering of its internal optical benches, gratings, extruded electronics and detectors, and airflow optimized aluminum enclosures. StellarNet spectrometers contain no moving parts, detector sockets, or screws, allowing for extended life and eXtreme durability.
StellarNet offers preconfigured Color measurement Systems, SpectroRadiometer and LED systems, Raman, Thin Film and Optical Measurement systems, SpectroChemistry Systems, Spectrofluorometers, PORTA-LIBS-2000 and Plasma Emission Monitors, and Raman systems.
Technical Support Check out StellarNet's new online technical support!!!
Free SpectraWiz Software Spectroscopy Software It's like a "Swiss Army Knife" of spectroscopy application tools that include customizable LabVIEW and VBA Excel programs and more
View all StellarNet products in an easy to navigate PDF format.
ContactUs@StellarNet.us
*StellarNet Inc. : Developing Intelligence from Light since 1991
---