Raman Spectrometers, Lasers, & Accessories
Product Announcement from StellarNet, Inc.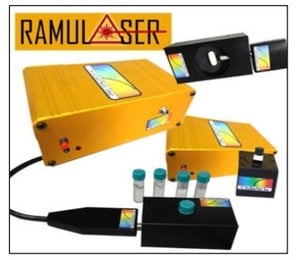 StellarNet is now offering a variety of Raman lasers and accessories for Raman spectroscopy applications that can be used to perform quick identification of a variety of liquid, solid, and powder samples.
The Ramulaser is a miniaturized 785nm Raman laser designed rugged for lab and portable Raman applications. The laser line is0.2nm FWHM and has 350/499mWatt adjustable power. It measures 2x4x6" in a robust metal case with lithium-ion all day battery power. The Ramulaser comes with options for a direct-connect integrating sphere collection assembly for vials, or attaches to a raman probe via standard FC/APC connector.

StellarNet is also offering the Lab-LS-785 Raman laser mainframe designed as a turn-key solution for laboratory Raman with adjustable laser power and TEC control electronics. The Lab-LS offers interchangeable modules for a variety of different Raman wavelengths, including 532/647/830/1064nm.

Another new release is the mini Raman laser probe. This accessory couples a mini 785nm laser with integrated optics for Raman signal collection all in one. The laser provides 100mW output power and 0.2nm FWHM. It's great for portable and OEM applications - just add a spectrometer!
Lastly, StellarNet is offering a Raman probe that will connect via FC/APC and return to your Raman spectrometer via standard SMA. The rigid probe length is 100mm with integrated Raman filters for 200 cm-1 and f/2 collection optics. The probe excitation fiber is 100um diameter and read fiber to spectrometer is 600um core diameter for the most optimized signal collection. The RPH4 Raman probe holder accessory can be used to mount the probe for measuring 1/2" vials or inverted to measure solid samples, such as pills & powders.
StellarNet manufactures precision fiber optic spectrometers for portable and multi-channel industrial applications, which enable low cost spectroscopy solutions. Our expertise in electro-optics, software design, and applications development, provides unmatched price performance in the global instrumentation market
Since 1991, StellarNet has been producing low cost miniature fiber optic spectrometers and accessories for industrial and academic applications worldwide. StellarNet is now one of the world's leading producers of ruggedized spectrometers for wavelength ranges of 190-2300nm and attributes its success to the eXtreme engineering of its internal optical benches, gratings, extruded electronics and detectors, and airflow optimized aluminum enclosures. StellarNet spectrometers contain no moving parts, detector sockets, or screws, allowing for extended life and eXtreme durability.
StellarNet offers preconfigured Color measurement Systems, SpectroRadiometer and LED systems, Raman, Thin Film and Optical Measurement systems, SpectroChemistry Systems, Spectrofluorometers, PORTA-LIBS-2000 and Plasma Emission Monitors, and Raman systems.
Technical Support Check out StellarNet's new online technical support!!!
Free SpectraWiz Software Spectroscopy Software It's like a "Swiss Army Knife" of spectroscopy application tools that include customizable LabVIEW and VBA Excel programs and more
View all StellarNet products in an easy to navigate PDF format.
ContactUs@StellarNet.us
*StellarNet Inc. : Developing Intelligence from Light since 1991
---