Pressure Transducers - High Accuracy!
Product Announcement from Stellar Technology, Inc.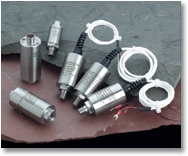 Stellar Technology pressure sensors feature the rugged and reliable bonded foil strain gage technology to produce sensors to meet the demands of your application.
The 8-Series (GT800, GT1800 & GT1850) is the workhorse of the STI pressure line; an economical series rated at ±.25 % accuracy. Gage, vacuum, sealed, absolute or compound ranges are available, as well as a variety of pressure ports, electronic and output options, and connectors.
The 6-Series (GT600, GT1600 & GT1650) offers exceptional value and solid performance. These ±.1% units also offer a variety of connector and pressure port alternatives to suit your application.
The 4-Series (DT400, DT1400 & DT1450) are the Wet/Wet high line differential sensors. Ranges as low as 12" H20 are offered, with standard line protection to 1000psi. High line pressure is no problem at Stellar. We've developed them to ±20,000psid.
All of these units feature stainless steel construction and diaphragms. (Alternative materials are available) Typical outputs are 4-20mA, 0-5vDC, and 0-10vDC and low level. Units without external zero and span and our standard 6-pin connector are hermetically sealed.
---