Batching Systems
Service Detail from Sterling Systems & Controls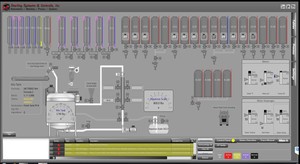 Our Automated, Semi-Automated or Manual Batching Systems will improve the efficiency of your powder and bulk, or liquid, material handling process. We specialize in custom designing and engineering batching systems to increase your process performance and product consistency, eliminate product waste and provide robust production data collection and reporting. Batching systems can also include both dry bulk and liquid materials along with blending or mixing operations.
Our batching systems utilize non-proprietary hardware: typically PC or intelligent HMI's and PLC's are the foundation of the systems. The systems are developed using industry standards such as Microsoft Windows, SQL Server, Rockwell Automation FactoryTalk View ME, and Microsoft .NET. This means that our design approach is robust and dependable. Our batching systems manage formulation, raw material lot tracking, inventory & usage, alarms for abnormal conditions, hand add additions, move tickets that insure that the batch is being properly sequenced, and system parameters customized for each application and complete batch validation.
Data collection and reporting for each batch produced, as well as for the equipment being controlled and monitored is the foundation of each batching system. Typical system interfaces include most of the least cost formulation software packages and ERP systems to allow for seamless interfaces. Standard and customized systems are available for single and multiple scale applications.
Along with batching systems that fully automate the equipment in the process, Sterling Systems & Controls offers a complete line of Manual batch weighing systems. These manual systems are based on the same technology as the automatic systems, with the same capabilities that insure a manual process is being monitored, processed and documented. This concept creates a validation system for the manual process. All systems include tolerance control and lot tracking/validation to ensure that the correct materials are being weighed to the specification of the programmable formula.
Batching System Automation Screen
Batching of Dry & Liquid Bulk Ingredients, Minor Ingredients, Micro Ingredients & Hand Add Additions
Scheduling
Inventory of Raw & Finished Materials
Tolerance Control
Lot Tracking of Raw Materials
Equipment Monitoring for Abnormal Conditions & Run times
Auto Routing of Finished Feed
Typical Batching Applications and Case Studies: