IP69/IP69K Stainless Steel Magnetic Safety Sensor
Featured Product from steute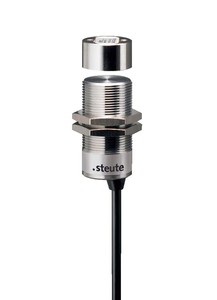 STEUTE's compact Series RC Si M30 stainless-steel, non-contact, coded-magnet safety sensors provide a rugged solution for monitoring the opening of machine safety guards or access doors. Ideal for facilities where equipment is subjected to high-pressure/high-temperature washdowns. Actuating magnet (shown) sold separately.
Features:
Switching System: Reed contacts, 1 NO/1 NC contact
Sensing range: Up to 8 mm
Switching voltage: 30 VDC (max)
Mechanical life: . 10 million operations
Maximum switching frequency: 5 Hz
Rugged, stainless steel housing
Pre-wired 5 meter cable (H03VV-F)
Ingress protection rating: IP66, IP67, IP69 and IP69K
Operating temperature range: -20 oC to + 85 oC
Series MC 30 corrosion-resistant Actuating Magnet ( shown, sold separately)
Safety compliant per EN ISO 14119 and EN ISO 13489-1
(When used wiyth a suitable safety relay, can be used in applications requiring up to PLe, Category 4 safety requirements ... please consult Steute for more information)
Special Order Options:
2 NC contacts
Custom pre-wired cab lengths
Integral LED
Other variants available. Please consult factory.