Laser Gauge Measurement System
Service Detail from Steven Douglas Corp. (SDC)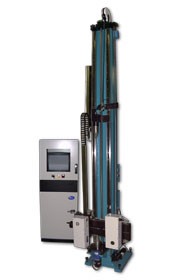 Steven Douglas Corp. designs and manufacturers special machines used in factory automation. Machines include: Assembly, Processing, Material Handling, and Testing and Inspection equipment.
One example is the Laser Gauge Measurement System we designed for a global specialty materials manufacturer.
Customer: Global specialty materials manufacturer
Project Title: Laser Gauge Measurement System
Product: Raw quartz tubing material for the production of fiber optic cable
Project Description: Provide one (1) automatic measurement gauge
Project Specs:
Establish overall tube geometry and characteristics by measuring individual quartz tubes.
Capture and store measurement data and generate individual tube data sheets.
Measure quartz tubes from 18" to 120" overall length
Solution:
The SDC Quartz Tube Laser Measurement System precisely calculates tube geometry by determining:

Overall tube length
I.D.'s and O.D.'s at specific points
Bow and Ovality
Cross sectional area, etc.

The entire Mechanical and Electronic functions of the machine are synchronized and controlled by a PC workstation running a custom written Visual Basic (VB) application complete with a custom user-friendly interface.
The VB application automatically converts Laser Gauge measurement data into a reader/printer friendly Microsoft Excel spreadsheet format.
---