2-Piece Fastener Makes Set Screws Obsolete
Featured Product from Stock Drive Products & Sterling Instrument - SDP/SI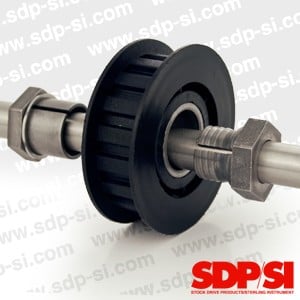 Shaftloc® Fastening Device Simplifies Assembly
Shaftloc®, a patented rotating component fastening device is manufactured by SDP/SI (ISO 9001 + AS9100 Registered). Its simple design eliminates all the disadvantages of traditional fastening methods.
Because of its uncomplicated design, the Shaftloc® Fastener is easy to install, adjust and is low cost. Since there are no set screws, it can be reused and adjusted many times over without damaging the shaft. The shallow angle of the thread produces large amplification of forces, resulting in substantial torque transmission capability between the component and the shaft.
The Shaftloc® Fastener is offered in a variety of styles, but they all feature a simple two-piece construction with corresponding male and female threads. The sleeves slide over the shaft on either side of the component to be secured. The threads are assymetrical so that the two sleeves wedge together around the shaft, holding the part in place between them. Hex heads make it easy to tighten the Shaftloc® sufficiently, and to unscrew it to make adjustments as needed.
The Shaftloc® Fastener and a wide variety of small mechanical components can be purchased 24/7 at our E-Store. Download product specifications and 3D CAD models.
Established 1950, SDP/SI provides engineered mechanical solutions for the aerospace, medical, and robotics industries through component options and custom design and manufacturing. Not limited to manufacturing parts; we also design, manufacture, and assemble custom subassemblies with world-class quality and reliability for all applications. As a precision gear and small mechanical component manufacturer we excel in every process: milling, turning, grinding, drilling, gear cutting, bevel gear cutting and assembly. We machine in a variety of materials and NADCAP and customer approved facilities are used for finishing and surface treatments.
Send an RFQ or Contact our Engineers, we can quote from a drawing or 3D CAD model.
We are here to help!
SDP/SI - Stock Drive Products/Sterling Instrument, a Designatronics company
250 Duffy Avenue, Hicksville, NY 11801
Phone: (516) 328-3300; (800) 819-8900