Engineering Development & Precision CNC Machining
Service Detail from Stock Drive Products & Sterling Instrument - SDP/SI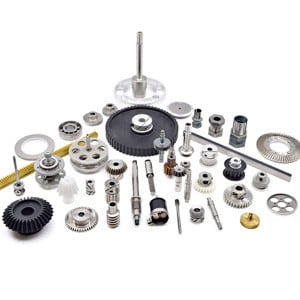 Stock Drive Products / Sterling Instrument (ISO 9001 + AS9100 Registered)
Stock Drive Products / Sterling Instrument (SDP/SI) provides engineered mechanical solutions to aerospace, defense, medical and robotics industries. Engineering and manufacturing processes are done in house, giving us better control over lead times and responsiveness to our customer's requests.
Precision CNC Machining
Since 1950 SDP/SI has been providing both stock and custom engineered mechanical components. We are not limited to manufacturing parts; we also design, manufacture and build custom subassemblies with world-class quality and reliability for all applications.
To ensure consistent, high-quality gears and mechanical components are produced, SDP/SI invests in the very latest CNC equipment, tooling and technology. Our Hicksville, NY facility houses over 170 machines, including CNC Swiss turning, CNC milling, CNC gear grinding, CNC gear shaping, CNC Bevel Gear cutting, gear hobbing, helical gear cutting, gear inspection, gear and gear assembly. Facility List
We machine in a variety of materials including stainless steel, aluminum, plastic, brass, bronze, steel alloys, and titanium. NADCAP and customer approved facilities are used for finishing and surface treatments.
Engineering Development
From the early stages of product development to high volume production, SDP/SI provides support every step of the way. Our engineers can offer valuable insight during the early design stage of your project. Drawing from 70 years of gear and small mechanical component manufacturing experience, customers benefit from our expertise. Design improvements may include a more streamline design, smaller and lighter weight, and better manufacturability leading to cost saving benefits. Our engineers look forward to working with you – let's talk about your next project!
Engineering & Precision Manufacturing for the Aviation, Defense, & Space Industries
SDP/SI specializes in high precision gears and assemblies for many applications including the military and defense markets. Our magnetic clutches are utilized in Bradley Fighting Vehicles and our intricate gear assemblies are found in missiles such as the Patriot, Standard or Stinger.
Precision Components:
Precision Gears
Gear Assemblies
Bevel Gears
Differentials
Gearboxes
Speed Reducers
Slip Clutches, Clutches & Magnetic Clutches
Timing Belt and Pulley Drive Systems
Mechanical Components (All Types)
Applications:
Aircraft Instrumentation
Actuation/Positioning Systems
Stabilization Systems
Structural Components
Weapons Targeting
Engine Fuel Control
Cargo Movers
Missiles & Tanks
Pan & Tilt Mechanisms (cameras, lighting)
Credentials:
RoHS Compliant
R.E.A.C.H Compliant
NADCAP Approved Facilities
Boeing BQMS Certified
ITAR Complaint - DDTC Registered
ISO Class 7 Cleanroom
Mechanical Components – Stock and Custom
SDP/SI offers a wide variety of inch and metric small mechanical components for the design engineer and OEM. Standard components can easily be located and purchased in one convenient place, shop online 24/7, download product specifications and 3D CAD models. The engineer not only meets all his component requirements, but saves valuable time by not having to search other sources.
For custom design and manufacturing, speak to our engineers at (516) 328-3300.

Quotes, online orders, and 3D CAD models are available at our E-store at: https://shop.sdp-si.com/catalog

SDP/SI - Stock Drive Products/Sterling Instrument, a Designatronics company
250 Duffy Avenue, Hicksville, NY 11801
Phone: (516) 328-3300; (800) 819-8900
www.sdp-si.com