Engineering & Precision Manufacturing in the USA
Service Detail from Stock Drive Products & Sterling Instrument - SDP/SI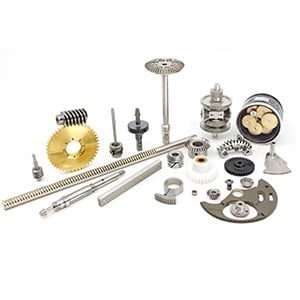 SDP/SI Creates Precision Gears, Superior Mechanical Components, and Custom Solutions for the Aviation, Defense, and Space Industries
Partnering with those in the aerospace industry we recognize the requirement for high-quality precision parts. An imperfect part can cause damage to an aircraft or satellite resulting in both time and financial loss. With over 70 years of experience, SDP/SI provides engineered mechanical solutions and consistently produces high-quality machined components and assemblies for aerospace applications.
Precision machining gears and mechanical components SDP/SI produces parts and assemblies used in the building of satellites, military and commercial jets, and space exploration. Whether it is standard catalog components such as couplings, bearings, and hardware to custom gears, shafting, and intricate gear assemblies, attention is paid to every detail ensuring it will meet expectations for form, fit and function.
The SDP/SI engineering team works closely with project engineers and design teams from development through prototyping and high-volume production. Drawing from years of experience our engineers can be most effective during early development, often times providing cost and time saving improvements to a design.
Because customer service, engineering, manufacturing and warehouse in one location we are more responsive and flexible to our customers' needs than others.
CNC Machining, Swiss CNC Machining, Coniflex Bevel Gear Generator
Our state-of-the-art CNC equipment allows our skilled operators to produce high-precision parts for our many aerospace OEMs. Able to machine a wide range of materials, SDP/SI is dedicated to producing the highest-quality aerospace gears, intricate parts, and mechanical components needed. To assure that capability, continuous investment is made securing the very latest CNC equipment, tools, and advanced technology. With the best CNC equipment, years of experience and machining knowledge our machinists consistently produce the precision components needed by the aerospace industry.
CNC Milling
From simple to complex shapes, SDP/SI has the capabilities for prototype and low to high volume production runs. Our engineers are ready to discuss design for manufacturability, material, lead times and manufacturing process for your custom CNC milled parts.
4-Axis and 5- Axis Milling
A 4-axis CNC machine operates on the X, Y and Z axis, but also includes rotation around the X-axis (A-axis) allowing for more continuous machining of the workpiece. 5-axis machining process refers to the traditional X, Y and Z linear axis as well as rotation on the A-axis and B-axis, allowing the workpiece to be approached from any direction. Able to machine 5 sides of the workpiece without removal and repositioning saves time and improves accuracy.
Partnering with many of the more well-known names in aerospace, SDP/SI produces precision gears, mechanical components and intricate assemblies for solar wing positioning systems, antennae positioning, instrumentation, rudder control, camera positioning, cargo movers and escape hatches.
Mechanical Components and Customized Assemblies
Spur Gears l Anti-Backlash Gears l Miter Gears, Racks & Pinion Gears l Internal Gears l Helical Gears l Bevel Gear Sets l Worms & Worm Wheels l Differentials l Gearheads l Planetary Gearheads l Speed Reducers l Worm Drive Gearboxes
Our Customer Include:
Boeing
Curtiss Wright
GE Aviation Systems
Honeywell
L3 Wescam
Lockheed Martin
Magellan Aerospace
NASA
Raytheon Technologies
Robinson Helicopter
SDP/SI - Stock Drive Products/Sterling Instrument, a Designatronics company
250 Duffy Avenue, Hicksville, NY 11801
Phone: (516) 328-3300; (800) 819-8900
www.sdp-si.com