3D Printer Gets Projects Into Production Faster
Service Detail from Stock Drive Products & Sterling Instrument - SDP/SI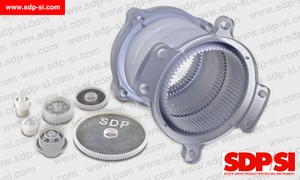 Stock Drive Products/Sterling Instrument (SDP/SI), a leader in providing mechanical based engineering and manufacturing services for critical motion control and small power transmission applications, recently acquired the 3D Systems ProJet MJP 2500 Plus 3D printer.
A high-quality printer, the 3D Systems ProJet MJP 2500 Plus uses a liquid polymer that has a variety of material properties and can create parts in three different colors, black, white, and translucent.
The new ProJet printer is utilized for orders of individual components, such as a gear or pulley, to more complex drive assemblies. Primarily used for prototypes and low volume production, this machine has the ability to produce high-accuracy components similar to those made with injection molding.
"Using the material jetting process, the polymer is dispensed in 32μ/layers (less than a human hair) with an accuracy of +/-.001per inch or better and then UV cured", said SDP/SI Sr. Sales Engineer, Mike Yandolino. This enables the creation of highly accurate drive components, allowing the engineer to assess the design for form, fit, and function before moving into high-volume production.
In addition to 3D printing prototypes, SDP/SI manufactures high-quality machined parts, molded components, and precision gearing for a variety of product applications in medical, aerospace, defense, robotics, commercial industries.