Aluminum-Acetal Fairloc® AGMA Q10 Gears at SDP/SI
Featured Product from Stock Drive Products & Sterling Instrument - SDP/SI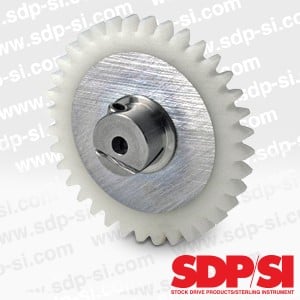 Hicksville, NY -- Aluminum-acetal gears, manufactured by SDP/SI feature the patented Fairloc® integral hub fastening system which eliminates marred shafts. These 20° pressure angle, AGMA Q10 and ISO Class 7 gears are identified as the S1268Z -...M series. They offer the best of both worlds: the noise reduction benefits of acetal rim gear teeth along with the strength of the 2024 aluminum core assembled onto a stainless steel hub.

The choice of the Fairloc® rotating component fastening system helps phase adjustment, timing, position adjustment and frequent removal problems with full component support along the entire hub section. These very cost-effective gears are compact, self-contained and offer a small gear hub envelope.

These gears are designed to mate with hubs which accept shaft sizes from .0900" to .2498" in diameter. The suggested clearance between the bore and the shaft is .0001"/.0008". They are stocked in 72, 64, 48, 32 and 24 Diametral Pitches with a face width of 1/8". Their sizes range from 21 to 210 teeth with O.D.'s ranging from .958" to 4.083".

Fairloc® system consists of two slots that are machined into the hub, one oriented radially the other angularly, to create a transverse wedge which remains attached to the solid portion of the hub on one side. The resultant cantilevered clamping section has a tapped hole to accept a cap screw which passes through a clearance hole in the solid portion of the hub, and into a threaded hole in the transverse section. As the socket head cap screw is tightened the cantilevered section clamps the shaft securely. The screw can be tightened and released repeatedly without marring the shaft or affecting its torque transmitting abilities.
SDP/SI offers a wide variety of inch and metric small mechanical components for the design engineer and OEM. Standard components can easily be located and purchased in one convenient place, shop online 24/7. The engineer not only meets all his component requirements, but saves valuable time by not having to search other sources. For custom design and manufacturing, speak to our engineers at (516) 328-3300.

Quotes, online orders, and 3D CAD models are available at our estore at http://shop.sdp-si.com/catalog/.


SDP/SI - Stock Drive Products/Sterling Instrument, a Designatronics company
250 Duffy Avenue, Hicksville, NY 11801
Phone: (516) 328-3300; (800) 819-8900
www.sdp-si.com