Custom Precision Gears and Gearboxes by SDP/SI
Featured Product from Stock Drive Products & Sterling Instrument - SDP/SI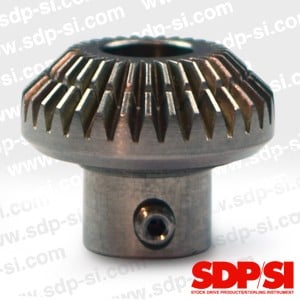 As a precision gear manufacturer SDP/SI specializes in custom gears and gearboxes for thousands of applications in the aerospace, medical, defense, automation, and robotics industries. Standard precision gears in a wide range of types, sizes, materials, and numbers of teeth are available off-the-shelf for quick prototyping and testing.
Simple modifications to complex designs are handled by our engineers, machinists, and assembly technicians daily. Using state-of-the-art CNC machines and Coniflex bevel gear generators we manufacture gears and mechanical components to precise specifications and world-class quality. From opening a bore to a complete custom gear we ensure the component will meet your need the first time and every time.
Our engineers work closely with OEMs providing design review, reverse engineering, and custom design. Our in-house capabilities include subassemblies for easy integration into larger systems.
Beyond precision gears, SDP/SI manufactures a wide variety of inch and metric dimensioned high-quality mechanical components for the design engineer and OEM. Standard components can easily be located and purchased in one convenient place, the SDP/SI E-Store, download 3D CAD Models, product specifications, and shop 24/7. The engineer not only meets all his component requirements, but saves valuable time by not having to search other sources. For engineered mechanical and motion solutions give our engineers a call, we look forward to working with you!
Send us an RFQ – we can quote from your 3D model or drawing.
For product specifications, applications, and technical design data for gears and timing belt and pulley drive systems request or download our catalogs.
SDP/SI - Stock Drive Products/Sterling Instrument, a Designatronics company
250 Duffy Avenue, Hicksville, NY USA 11801
Phone: (516) 328-3300; (800) 819-8900
www.sdp-si.com