Get Timing Belts in Less Time...
Featured Product from Stock Drive Products & Sterling Instrument - SDP/SI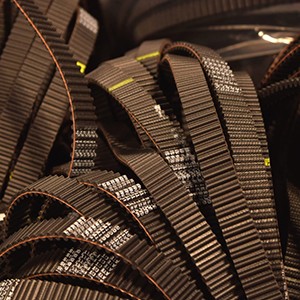 Stock Drive Products/Sterling Instrument (SDP/SI) provides engineered mechanical solutions for medical, aerospace, aviation, defense and industrial automation industries. We also provide a wide range of component choices, recently expanding our timing belt inventories resulting in shorter lead times.
Customers face challenges every day, from a line going down to building a prototype. By expanding our timing belt inventory we have dramatically lowered lead times, cutting and shipping timing belts in less than a week.
SDP/SI is one of the top 3 belt sleeving consumers in the USA offering synchronous timing belts in a wide range of profiles, including MXL, XL, L, HTD®, GT®2 and GT®3. Stocking timing belt material from leading manufacturers, such as Gates, SDP/SI has the capacity to cut thousands of timing belts per day. Both standard widths and special widths cut to customer requirements are available. Detailed product specifications are available on our website.
We understand drive systems – for optimal performance build your timing belt and pulley drive system with SDP/SI components.
Standard and Custom

High-Quality Molded and Machined Pulleys

Synchronous Timing Belts

Precision Shafting

Miniature, MXL, 40 D.P., XL, L, HTD®, GT®2, G T®3, T2.5, T5 and T10
About Stock Drive Products/Sterling Instrument (SDP/SI) a Designatronics company
SDP/SI, ISO 9001:2015 + AS9100D certified, provides mechanical based design, engineering and manufacturing services for critical motion control and small power transmission applications, including aerospace, defense, medical, robotics, and industrial automation. Over 87,000 standard inch and metric small mechanical components are available for fast turnaround. SDP/SI specializes in high-quality machined parts, molded components, synchronous belt drives, precision gears and subassemblies, offering customized design.
250 Duffy Avenue, Hicksville, NY 11801
(516) 328-3300