High-Quality Special Purpose Screws
Featured Product from Stock Drive Products & Sterling Instrument - SDP/SI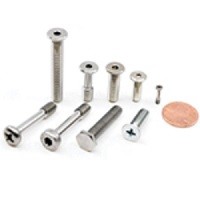 With over 87,000 mechanical component options, SDP/SI is the engineer's preferred source. Hardware items offered include high-quality special purpose screws that provide problem solving benefits.
For applications where there is limited space and clearance is an issue, low profile (S706SHM…) stainless steel and alloy steel with black oxide or nickel plating screws are available in a variety of styles. Complying with EU Machinery Directive, Captive Machine Screws (S706SCM…) have a unique shape which prevents loss during installation and maintenance. The Captive Machine Screws are also available in a miniature pan head style (S706SHM…), the smallest being 4 mm in length, making it ideal for precision instrumentation applications. Featuring a unique internal driving shape, hexalobular socket head cap screws (S709NHM…) are designed to withstand high-tightening torque, reducing damage to tools and screw heads. For our entire product offering visit: www.sdp-si.com
Specializing in engineered mechanical solutions since 1950, SDP/SI manufactures gears, custom gear assemblies, mechanical components, timing belt and pulley drive systems, and molded parts for aerospace, medical, and robotic applications. Providing a wide variety of standard catalog items plus customized solutions we partner with OEMS around the world. Our engineers look forward to working with you.
Download detailed product specifications, technical information, and 3D CAD Models at www.sdp-si.com and buy online at our E-Store. While visiting our website request our latest catalog, a must have reference for engineers.