Let's Design a Belt & Pulley Drive System
Featured Product from Stock Drive Products & Sterling Instrument - SDP/SI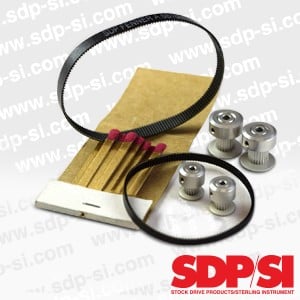 Stock Drive Products/Sterling Instrument (SDP/SI) is well known for supplying the problem-solving mechanical components engineers are looking for. Specializing in timing belt and pulley drive systems, SDP/SI manufactures and stocks a wide array of pulleys in a variety of materials, sizes, types, and numbers of teeth. Mating timing belts in standard and custom widths are offered for quick delivery.
Miniature timing belts in profiles FHT-1, FHT-2, FHT-3, and MXL are stocked in polyurethane, reinforced with Kevlar or fiberglass cords while GT®2 timing belts are made of neoprene, fiberglass reinforced. All timing belts are offered in standard widths or can be customized to meet need.
SDP/SI pulleys are precisely manufactured to fit the timing belt profile, resulting in better operation and longer belt life. The pulleys are machined or molded; some sizes are available with the unique Fairloc® hub design, download our white paper to learn more!
Custom design, precision manufacturing and assembly capabilities are all offered by SDP/SI plus over 88,000 standard components.
Design your miniature belt drive system:
For custom mechanical engineered solutions and manufacturing, speak to our engineers at (516) 328-3300.

Request a quote, shop 24/7, and download 3D CAD models at our estore at http://shop.sdp-si.com/catalog/.
Our Certifications:
ISO 9001 + AS9100
ITAR Compliant - DDTC Registered
RoHS & REACH Compliant
NIST SPP 800-171 Compliant
Stock Drive Products/Sterling Instrument a Designatronics company
250 Duffy Ave., Hicksville, NY 11801
Phone: (516) 328-3300
Email: sdp-siSupport@sdp-si.com
website: www.sdp-si.com