Machined & Molded Timing Belt Pulleys from SDP/SI
Featured Product from Stock Drive Products & Sterling Instrument - SDP/SI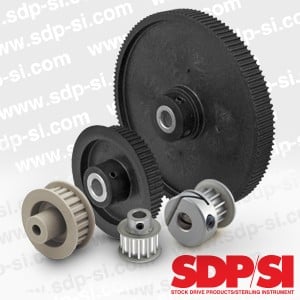 For over 50 years, SDP/SI has been the leading manufacturer of small mechanical components and custom assemblies. We offer a wide selection of high-quality off-the-shelf inch and metric sized timing belt pulleys. Our pulleys are machined and molded using aluminum, steel, acetal, nylon and polycarbonate. We offer them in the same profiles as are our timing belts, which they complement: 40 D.P., miniature FHT® 1, 2, & 3 mm, Gates PowerGrip GT®2/GT®3, Gates HTD®, L, MXL, T, and XL. For each profile offered, there is a variety of available grooves, widths, single-flange, double-flange and no-flange. Choose from pulleys with or without inserts, set screws, metal hubs, or Fairloc® hubs.
Fairloc® is the better way to fasten rotating components. It solves phasing, timing, positioning and frequent removal problems. Fairloc® replaces set screws and clamps; components can be repositioned with a single hex key adjustment, and without marring the shaft.
If a standard pulley does not meet your requirement, we will customize to almost any specification. Bore sizes, keyways and other special options are designed, engineered, manufactured and assembled in-house. Our engineering support team will help you find the right solution for your application.
Use our center distance designer to design your own belt drive system.
SDP/SI offers a wide variety of inch and metric small mechanical components for the design engineer and OEM. Standard components can easily be located and purchased in one convenient place, shop online 24/7. The engineer not only meets all his component requirements, but saves valuable time by not having to search other sources. For custom design and manufacturing, speak to our engineers at (516) 328-3300.

Quotes, online orders, and 3D CAD models are available at our estore at http://shop.sdp-si.com/catalog/.


SDP/SI - Stock Drive Products/Sterling Instrument, a Designatronics company
250 Duffy Avenue, Hicksville, NY 11801
Phone: (516) 328-3300; (800) 819-8900
www.sdp-si.com