Mechanical Components Provide Precision Accuracy
Featured Product from Stock Drive Products & Sterling Instrument - SDP/SI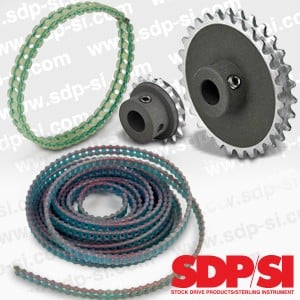 SDP/SI creates precision gears, superior mechanical components, and custom engineered solutions for a wide range of industries and thousands of applications. Specializing in problem-solving components SDP/SI offers Posi-Drive Belts and Sprockets as a no-slip, space saving drive solution.
Single core and twin core Posi-Drive Belts and Sprockets excel in applications that require accurate positioning and no lost motion. As an example, 3D printers benefit from this advantage as more precise positioning will result in higher quality parts being created. Another advantage is quiet operation due to the no-flange design of the sprockets which prevent air from being trapped between the sprocket and belt.
The twin core Posi-Belt drives are an economic alternative to miniature steel chain while the single core system can be used in applications where the shafts are oriented at an angle with one another. The central core, made of either aramid fiber or stainless steel, can twist in such a way that the pins still stay in perfect mesh with the sprocket. This allows the shafts on either sprocket to be oriented at a full 90 degree angle without sacrificing belt performance.
The single and twin core belts, series: S7912Y-C32…, S7915Y-CP…, S7913Y-20…, and S7914Y-20… are made of molded polyurethane and require no lubrication. They have excellent chemical and abrasion resistance, making them suitable for the medical and food processing industries. They are sold either by pin count or by the foot up to 100 feet.
The mating sprockets are available in stainless steel and aluminum, anodized before cutting. The OD's range in size from .500 to 4.062 and various bore sizes are offered.
Established 1950, SDP/SI develops and manufactures miniature to small mechanical components as well as subassemblies for integration into larger systems fully supporting our customers from prototype to high-volume production. Our small power transmission and motion control components can be found in a wide assortment of industries including aviation, aerospace, medical, defense, robotics, automation, recreational, and oil and gas.
Precision Machining and Assembly
CNC Swiss Turning
CNC Milling & Turning
Gear Cutting
Bevel Gear Cutting
Rapid Tooth Cutting Only Capabilities
ISO 9001 + AS9100
ITAR Compliant – DDTC Registered
DFARS Compliant
NIST SP 800-171 Compliant
Standard components are a cost-effective option and with 87,000 machined and molded parts offered, SDP/SI is the engineer's preferred source. Product specifications, 3D CAD models, and the ability to shop 24/7 are all offered at our E-Store.
SDP/SI - Stock Drive Products/Sterling Instrument, a Designatronics company
WEB: www.sdp-si.com
EMAIL: sdp-sisupport@sdp-si.com
PHONE: (516) 328-3300; (800) 819-8900
250 Duffy Avenue, Hicksville, New York 11801 USA