Design Your Miniature Timing Belt & Pulley System
Featured Product from Stock Drive Products & Sterling Instrument - SDP/SI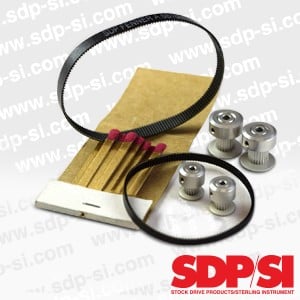 Stock Drive Products/Sterling Instrument (SDP/SI), a leader in providing mechanical based engineering and manufacturing services for small power transmission applications, recently expanded their offering of miniature belt and pulley drive components.
Miniature timing belts in profiles FHT-1, FHT-2, FHT-3, and MXL are stocked in polyurethane, reinforced with Kevlar or fiberglass cords while GT®2 timing belts are made of neoprene, fiberglass reinforced. All timing belts are offered in standard widths or can be customized to meet need; cutting over 5,000 belts a day, SDP/SI ships in stock items within 24 hours.
SDP/SI pulleys are precisely manufactured to fit the timing belt profile, resulting in better operation and longer belt life. The pulleys are machined or molded; some sizes are available with the unique Fairloc® hub design.
"OEMs depend on Stock Drive Products/Sterling Instrument for reliable off-the-shelf components for a wide range of product applications," said Michael Garcia, Application Engineer. "The increased variety of products, sizes, and materials makes it easier for the engineer to use standard components in their designs, minimizing costs and lead times."
Design your miniature belt drive system:
For custom mechanical engineered solutions and manufacturing, speak to our engineers at (516) 328-3300.

Request a quote, shop 24/7, and download 3D CAD models at our estore at http://shop.sdp-si.com/catalog/.