Precision Machined Gears by SDP/SI
Featured Product from Stock Drive Products & Sterling Instrument - SDP/SI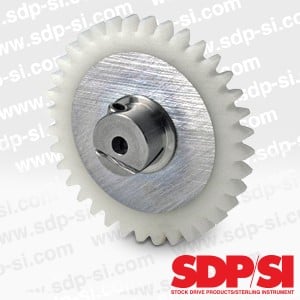 SDP/SI creates precision gears, superior mechanical components, and custom engineered solutions for a wide range of industries and thousands of applications. Specializing in problem-solving components SDP/SI manufactures precision gears that offer the best of both worlds: noise reduction benefits of acetal rim gear teeth along with the strength and stability of the aluminum core assembled onto a stainless steel hub.
The AGMA 10 precision machined gears are identified as: S1268Z -...M series and can be assembled with various hub styles, including the unique Fairloc® hub. The SDP/SI Fairloc® hub design provides many benefits over traditional fastening methods. The compact, self-contained design allows the hub to fully and accurately support the component on the shaft, reducing any motion or misalignment after tightening. Assembly and maintenance issues are eliminated as the hub can be repeatedly loosened and tightened without damaging the shaft for easy repositioning and adjustment of the component.
The acetal spur gears with aluminum core part series are offered in 72, 64, 48, 32, and 24 pitch, 24 to 210 numbers of teeth, and OD's from.938" to 4.000". Complete product specifications, availability, lead time, and price are available online. Other numbers of teeth, different bore sizes and/or material can be manufactured to meet specific need. Our engineers are available to assist with product selection, design review, and custom solutions.
Established 1950, SDP/SI develops and manufactures miniature to small mechanical components as well as subassemblies for integration into larger systems fully supporting our customers from prototype to high-volume production. Our small power transmission and motion control components can be found in a wide assortment of industries including aviation, aerospace, medical, defense, robotics, automation, recreational, and oil and gas.
Precision Machining and Assembly
CNC Swiss Turning
CNC Milling & Turning
Gear Cutting
Bevel Gear Cutting
Rapid Tooth Cutting Only Capabilities
ISO 9001 + AS9100
ITAR Compliant – DDTC Registered
DFARS Compliant
NIST SP 800-171 Compliant
Standard components are a cost-effective option and with 87,000 machined and molded parts offered, SDP/SI is the engineer's preferred source. Product specifications, 3D CAD models, and the ability to shop 24/7 are all offered at our E-Store.
SDP/SI - Stock Drive Products/Sterling Instrument, a Designatronics company
WEB: www.sdp-si.com
EMAIL: sdp-sisupport@sdp-si.com
PHONE: (516) 328-3300; (800) 819-8900
250 Duffy Avenue, Hicksville, New York 11801 USA