Rectangular Ground Racks & Joining Gauges
Featured Product from Stock Drive Products & Sterling Instrument - SDP/SI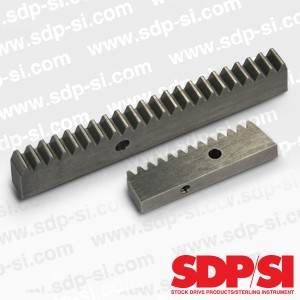 Hicksville, NY -- Stock Drive Products / Sterling Instrument offers an ISO class series of 5 rectangular ground racks and joining gauges in Modules 0.5, 0.8, 1, 1.5, and CP 2 and 5. Gear racks are used to convert rotational motion into linear motion. In theory, a rack is an unrolled gear with an infinite pitch diameter. A rack will mesh with all gears of the same pitch.

The Module 0.5, 0.8, 1 and 1.5, are identified as the S18C -- M series and the CP 2 and CP 5 are known as the S18CCPM series. Both series are available with machined ends that allow them to be joined together to create continuous lengths of rack. The spacing of these mating racks is achieved by the use of the new joining gauge. The joining gauge is a section of rack that is bridged over the two adjoining racks for precise alignment while attaching the rack to your application.

The joining gauges correspond with the same series, S18C -- M (Module 0.5, 0.8,1 and 1.5) and S18CCPM (CP 2 and CP 5). These standard components are made from ANSI 1045 steel with a tooth surface induction hardness of HRC 27-32. Stock racks are available in lengths of 200 to 300 mm, and from 64 to 128 teeth. There is also a family of ISO class 9 round racks in Module 0.5, 0.75, 0.8 and 1 made of 304 stainless steel. They are identified as the S181YYM series and are offered in lengths of 202 mm and 305 mm.
SDP/SI offers a wide variety of inch and metric small mechanical components for the design engineer and OEM. Standard components can easily be located and purchased in one convenient place, shop online 24/7. The engineer not only meets all his component requirements, but saves valuable time by not having to search other sources. For custom design and manufacturing, speak to our engineers at (516) 328-3300.

Quotes, online orders, and 3D CAD models are available at our estore at http://shop.sdp-si.com/catalog/.


SDP/SI - Stock Drive Products/Sterling Instrument, a Designatronics company
250 Duffy Avenue, Hicksville, NY 11801
Phone: (516) 328-3300; (800) 819-8900
www.sdp-si.com