Reliable, Low Maintenance Mechanical Components
Featured Product from Stock Drive Products & Sterling Instrument - SDP/SI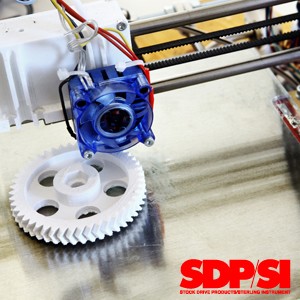 SDP/SI provides small mechanical components and assemblies known worldwide for their quality, reliability and performance. That's why 3-D printer manufacturers, from the largest to the smallest, rely on SDP/SI for their printer component needs.
Timing Belts –
Fiberglass reinforced neoprene, steel tensile cord reinforced polyurethane and low-dust polymer
Miniature FHT®, MXL, 40 D.P., XL, L, HTD, GT®2, GT®3, T2.5, T5, and T10


Timing Pulleys –
Aluminum, steel and plastic
Miniature FHT®, MXL, 40 D.P., XL, L, HTD, GT®2, GT®3, T2.5, and T5


Synchromesh Drive System


Shafts


Bearings (all types and sizes)


Gears and Gear Racks – stainless steel, aluminum, steel, brass and plastic


Couplings – Rigid, Flexible


Stepper Motors - Hybrid, NEMA


Linear Guide Systems


Miscellaneous Hardware – Latches
And More
With a wide range of sizes and precision levels, SDP/SI components offer the accuracy and speed you need, while assuring smooth, reliable operation, low maintenance and long life.
Providing Components and Engineered Solutions to Meet Your Needs
Standard Off-the-Shelf Components
for rapid development and testing of your designs
Custom Solutions
design, engineering and manufacturing services
Our Credentials Include
ISO 9001 Certified
AS9100D Certified
DDTC Registered
RoHS Compliant
R.E.A.C.H Compliant
ISO Class 7 Cleanroom
Our facility accommodates short runs to high-volume production runs for OEMs
We can design, produce and assemble custom subassemblies with world-class quality and reliability. Using the newest technologies, processes and methods we provide you with the best products available. As a precision gear and small mechanical component manufacturer we excel in every aspect of the process: milling, turning, grinding, drilling, and gear cutting.
GT®2 and GT®3 registered trademark of the Gates Corporation l FHT® registered trademark of Fenner Corporation
SDP/SI offers a wide variety of inch and metric small mechanical components for the design engineer and OEM. Standard components can easily be located and purchased in one convenient place, shop online 24/7. The engineer not only meets all his component requirements, but saves valuable time by not having to search other sources. For custom design and manufacturing, speak to our engineers at (516) 328-3300.

Quotes, online orders, and 3D CAD models are available at our estore at http://shop.sdp-si.com/catalog/.


SDP/SI - Stock Drive Products/Sterling Instrument, a Designatronics company
250 Duffy Avenue, Hicksville, NY 11801
Phone: (516) 328-3300; (800) 819-8900
www.sdp-si.com