Setting Ideas Into Motion at SDP/SI
Featured Product from Stock Drive Products & Sterling Instrument - SDP/SI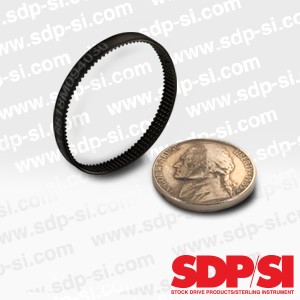 Hicksville, NY
- Stock Drive Products/Sterling Instrument expands offering of
miniature MXL Synchronous Drive Components
. MXL timing belts and pulleys are designed for light-duty power transmission and limited space applications. With twice the horsepower rating, the MXL timing belts have a greater number of teeth engaged on the pulleys at all times and therefore larger transmission ratios can be obtained.
SDP/SI offers these MXL timing belts in reinforced Neoprene or Polyurethane as the
A 6G16-...
,
A 6Z16-...
, and
A 6B16-...
(inch) series.
A 6Z16M...
,
A 6G16M...
,
A 6B16M...
(metric) series. The neoprene and polyurethane material is molded around fiberglass helically wound cords. Also offered are polyurethane body with Kevlar cord construction. The fiberglass or Kevlar cords are what gives these belts their unusual strength. The MXL Timing Belts are offered in standard widths, 1/8", 3/16", 1/4", 5/16" and 3/8", customized widths can be cut from available belt material.
The teeth of the Neoprene timing belt are faced with extra durable wear resistant nylon fabric that eliminates the need for lubrication. Circular pitch is not affected, because the belt is designed to locate the pitch line of the drive outside the outer diameter. This virtually eliminates vibration and backlash while ensuring constant angular velocity.
SETTING IDEAS INTO MOTION
Stock Drive Products/Sterling Instrument (SDP/SI) offers a wide variety of inch and metric small mechanical components for the design engineer and OEM. Standard components can easily be located and purchased in one convenient place, shop online 24/7. The engineer not only meets all his component requirements, but saves valuable time by not having to search other sources. For custom design and manufacturing, speak to our engineers at (516) 328-3300. ISO 9001 + AS9100 certified.
SDP/SI - Stock Drive Products/Sterling Instrument, a Designatronics company
250 Duffy Avenue, Hicksville, NY 11801
Phone: (516) 328-3300; (800) 819-8900
www.sdp-si.com