Small Pitch Timing Belts Offer Minimal Vibration
Featured Product from Stock Drive Products & Sterling Instrument - SDP/SI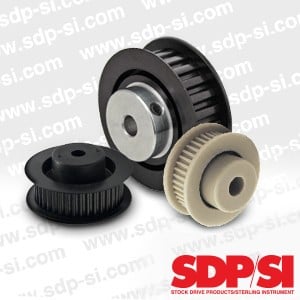 SDP/SI (ISO 9001 + AS9100D Registered) offers several different series of pulleys for 1/5" small pitch timing belts. They offer positive, efficient power transmission for shaft drives, with no slip or backlash and minimal vibration.

These pulleys are designed to operate with synchronous toothed belts. They transmit power efficiently in small spaces with minimum noise, so they are perfect for numerous everyday applications such as machine tools, mowers, copiers and printers. They are also suitable for high-reduction drives, where a higher number of teeth in mesh is required.

Pulley styles include double-flanged, single-flanged and flangeless, as well as hubbed and hubless. They are designed for 1/4" and 3/8" wide belts. Number of grooves range from 10 grooves (.637" pitch diameter) to 72 grooves (4.584" pitch diameter). Bores range from .1875" to .500". Materials include aluminum alloy, clear anodized; steel, black oxide; fiberglass reinforced polycarbonate; and fiberglass reinforced nylon. Fasteners include set screws and our patented Fairloc® system.
SDP/SI offers a wide variety of inch and metric small mechanical components for the design engineer and OEM. Standard components can easily be located and purchased in one convenient place, shop online 24/7. The engineer not only meets all his component requirements, but saves valuable time by not having to search other sources. For custom design and manufacturing, speak to our engineers at (516) 328-3300.

Quotes, online orders, and 3D CAD models are available at our estore at http://shop.sdp-si.com/catalog/.


SDP/SI - Stock Drive Products/Sterling Instrument, a Designatronics company
250 Duffy Avenue, Hicksville, NY 11801
Phone: (516) 328-3300; (800) 819-8900
www.sdp-si.com