Splined Sleeve Type Flexible Couplings
Featured Product from Stock Drive Products & Sterling Instrument - SDP/SI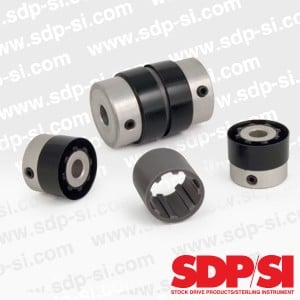 Hicksville, NY
-- SDP/SI (ISO 9001 + AS9100D Registered) offers an off-the-shelf series of inch and metric size splined sleeve type flexible couplings that offer torsional resiliency to absorb load pulsations and shocks in instrumentation applications. Identified as the
A 5Z21-...
,
and
A 5Z23-...
(inch) and
A 5Z21M...
and
A 5Z23M...
(metric) series, the couplings consist of a splined polyethylene connecting sleeve and two aluminum hubs with splined acetal inserts. They are unique in that the hubs wrap around the sleeve, which allows for maximum flexibility while the meshing splines maintain a secure engagement. The torsional resiliency and maximum parallel offset depend on the length of the connecting sleeve used. Sleeves are available in lengths up to 12" (300 mm), and can be cut to satisfy overall length or resiliency requirements. The couplings can accommodate up to 7 degrees of angular misalignment and transmit up to 1/2 hp at 1750 rpm.
SDP/SI offers a wide variety of inch and metric small mechanical components for the design engineer and OEM. Standard components can easily be located and purchased in one convenient place, shop online 24/7. The engineer not only meets all his component requirements, but saves valuable time by not having to search other sources. For custom design and manufacturing, speak to our engineers at (516) 328-3300.
Quotes, online orders, and 3D CAD models are available at our estore at http://shop.sdp-si.com/catalog/.

SDP/SI - Stock Drive Products/Sterling Instrument, a Designatronics company
250 Duffy Avenue, Hicksville, NY 11801
Phone: (516) 328-3300; (800) 819-8900
www.sdp-si.com