Spring Products for Industrial Applications
Featured Product from Stock Drive Products & Sterling Instrument - SDP/SI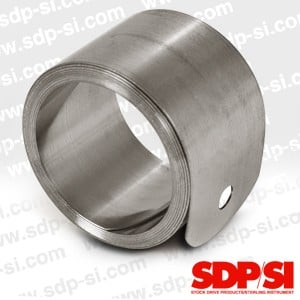 Hicksville, NY -- Constant force extension springs from Stock Drive Products/Sterling Instrument are designed for use in applications requiring a smooth and steady force for retracting or returning, such as in door and drawer closers, clamps, bands and clips. They are also used as magazine feed drives in vending machines and assembly line machinery.

Identified as the A 3X50 Extension Springs series, they offer high stress and long deflection which offer many advantages over conventional coiled springs. These advantages are significant when used in applications where low or zero gradient is desired, where limited space is a factor, where large extensions are required and where high initial force at initial deflection is required. The springs feature widths from 3/16" to 2", made of 301 Stainless Steel and are provided with at least one punched hole in the free end for fastening purposes. The maximum recommended load per spring ranges from .23 lbs. to 40.9 lbs.

SDP/SI manufactures small mechanical components and assemblies, servicing a wide variety of aerospace, medical and commercial industries for over 55 years. Quotes, online orders, and 3D CAD Models are available on our estore at https://shop.sdp-si.com/catalog/?brand=sdp&cid=p65 . Find over 100,000 small mechanical components, including gears, belt and chain drives, shafts, bearings, couplings, universal joints, vibration mounts, hardware, gearheads and speed reducers, right angle drives, brakes and clutches. Learn more about SDP/SI at www.sdp-si.com.

Stock Drive Products / Sterling Instrument (SDP/SI), 250 Duffy Avenue, Hicksville, NY 11801. Phone: 1-800-819-8900 | 516-328-3300 • Fax: 516-326-8827.