Shop Pal is good for areas that have moisture.
Product Announcement from Strong Hold Products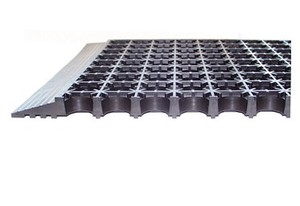 The Shop Mate anti-fatigue mats are used in dry, non-corrosive and non-abrasive areas. Use in class to cleanroom and where antistatic applications are required. This bubble backed mat has an 8-year warranty. This mat provides relief from fatigue experienced while standing at your work area. This mat is gray and weighs 1 lb/sq ft.
The Shop Pal anti-fatigue mat is good for areas that have moisture. This unique design features a non-slip design and a 2" beveled ramp for trip prevention and has exceptional drainage for areas such as automotive industry, food service and wet areas in general. The mat is black, comes with a 5-year warranty and weighs 2 lbs/sq ft.
The Shop Buddy mat is used for dry to moist non-abrasive manufacturing areas requiring, chemical resistance, fire-retardant and antistatic properties. This mat is black and available in a smooth or bubble profile. It also provides great relief for the person who has to stand on the job. It is appropriate for moderately oily areas. These profiles has a 3-year warranty. The bubble mat weight 1lb/sq.ft., and the smooth weights 6/10 lb/sq.ft.
The Shop Friend is 100% virgin nitril rubber. The work environments include welding and metalwork areas where heat, moisture, chemical and abrasion resistance properties are an issue. This shop-mate can be used in commercial kitchen and food processing facilities. It is non-porous and will not trap bacteria. It comes with a 3-year warranty, color black and weighs 1.5 lbs/sq.ft.
The Shop Apprentice consist of nitril rubber. This matting is used where there is a need for anti-bacterial cleanability. The Shop-apprentice is ideal for food processing, laboratories or medical facility environments. This mat withstands pressure washing as well as chemical and steam cleaning. It has a 3-year warranty and weights 1.3lbs/sq.ft
A History of Commitment to Quality
In 1993, we set out to design the ultimate industrial storage product. Our vision was to manufacture a product capable of withstanding the treatment common to an industrial environment. Included in this vision was the need to securely store heavy tools and valuables. Strong Hold Products is the realization of this vision. Our storage cabinets, lockers, shop desks, and related products are the strongest, most secure in the marketplace. Our products can be found in manufacturing, warehousing, pharmaceutical, financial, and educational facilities throughout the U.S. Our determination doesn?t stop here.We continue to meet the ever changing needs of the most important people we know, our customers!
Strong Hold Products is committed to achieving total customer satisfaction. Implementing and maintaining an efficient, effective quality management system can aide us in achieving this goal. This can be accomplished through the continuous improvement of our manufacturing process, ongoing training of our employees and dedication to understanding our customers' needs.
ABOUT OUR PRODUCTS:
DURABLE - Strong Hold Products' production team is dedicated to providing the most durable cabinet available today. Twelve-gauge steel is sheared, formed, welded, steam-cleaned then painted to produce a solid, strong and dependable cabinet. Our product is designed to withstand years of industrial abuse and tough treatment.
FAST - Our products are shipped completely assembled and ready to use. There is no lost time for shelf installation or setup.
ECONOMICAL - Our production methods allow us to pass savings on to you. Strong Hold Products' cabinets are comparably priced to competing light gauge steel cabinets, yet provide a far superior, lasting product. There are no minimum order quantities at Strong Hold Products.
SECURE - Our three point locking system is designed for a heavy padlock. This feature, along with our cast iron handle, padlock tang, 3/8" angle receiver, and 8-gauge hinge, compliments the 12-gauge welded body design.
PRODUCTS
Construction Details: Gauge Us by our Gauge: 12-Gauge is Superior
Custom Requests
For customized product requests, please use our custom request form.
Do you have a large project that you'd like us to quote? Click here to submit your RFP in Microsoft Word or Excel format, or to send a request for a custom design.
---