STULZ CyberRow® Intelligent Rack Cooling
Product Announcement from Stulz Air Technology Systems, Inc.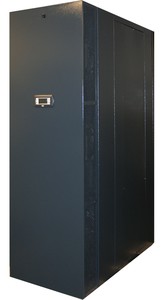 Fluctuating server rack loads, space restrictions, lack of a raised floor, existing server technology - these are some of the modern day challenges that the STULZ CyberRow has been specially developed to deal with.
With cooling configurations for hot-aisle and cold-aisle capture, in both open and contained spaces, STULZ CyberRow will integrate seamlessly into new and existing data centers, providing years of low cost reliability.
STULZ CyberRow is a standalone A/C unit with cooling capacities up to 75kW. It is installed and operated independently from the rack. This complete separation of the rack and the A/C unit increases reliability and provides greater freedom for designing the layout in the data center.
Click for more information on STULZ CyberRow Intelligent Rack Cooling.
---