STULZ DH-100™
Product Announcement from Stulz Air Technology Systems, Inc.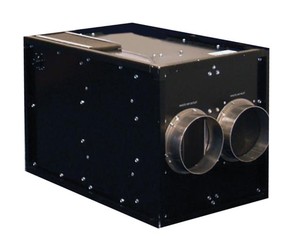 STULZ DH-100 units produce dry air to prevent corrosion, increase readiness, reduce maintenance, and improve Mean Time Between Failure (MTBF) for electronic systems.
With the STULZ DH-100 dehumidifiers, humidity can be controlled below levels at which moisture condenses on surfaces, thereby preventing corrosion, mold and mildew formation.
The heart of the units are STULZ proprietary desiccant dehumidification wheel. A PTC electric resistance heater is used for regeneration and low speed-low noise compact blowers are used to move supply and regeneration air throughout the unit. Other elements include a small drive motor and belt to rotate the wheel, an integral humidistat, and a customized printed circuit board.
Features:
Only 17.07"H x 15.94"W x 25.25"L
Weighs only 46 lbs (DH-50)
Delivers 100 scfm and removes 48 lbs. of H2O/24 hrs. at 90°F/75% RH.
Built with rugged, aluminum frame and panel construction all anodized black
Units are configured for 115V/60 Hz, 1 phase
Simple on-off-auto switch with integral humidistat control
Surface mounting pan duct transition adapter, light weight flexible duct, and heavy duty power cord
---