Series 1000 Desiccant Dehumidifier
Product Announcement from Stulz Air Technology Systems, Inc.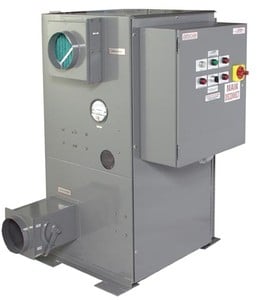 STULZ Series 1000 units are industrial duty dry desiccant dehumidifiers. They dehumidify a space or process application to a humidity level chosen by the user without lowering the air temperature.
150 SCFM to 600 SCFM
Industrial Duty - Dry desiccant dehumidifier Series 1000 units are self contained, with all necessary blowers, controls, filters and drive components to assure the safe and automatic operation of the dehumidifier.
Single point power connection
Advanced Silica Gel desiccant rotor
Solid state controls
UL-508-A listed panel
NEMA rated electrical enclosure
Electric Reactivation of Desiccant rotor
Constructed of high grade 5052 aluminum alloy for corrosion protection and light weight.
Internally ducted airways
Capacity control options available
Low maintenance plus easy access to all internal components
Flexible: Many pre-designed options to meet your needs
Versatile: Space or process conditioning, controls relative humidity or dew point.
NRTL to UL 1995 Standards Certified
Typical applications include:
Warehouse & Storage Facilities
Museums
Document Archives
Military Equipment Preservation
Laboratories & Clean Rooms
Pneumatic Conveying (Grain Elevators)
Water Remediation
---