Global 8 Controller for Wireless Torque Tools
Product Announcement from Sturtevant Richmont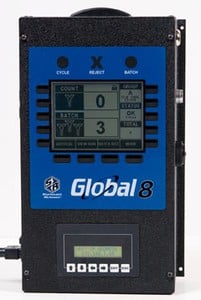 Features:
Controls up to eight -1100 Series Exacta 2 digital torque wrenches or 2.4 GHz preset clicker-type torque wrenches.
Stores specification sets for each tool on board.
Downloads specifications and uploads use data.
24 VDC relays and I/O port.
Easy to program and use.
Ethernet port and ACOP ready.
Set your Global 8 to mirror your work processes.
Visual and audio feedback to the worker so they know exactly where they are in the process.
Fast and easy set up. Wrenches can be programmed to communicate with the controller in less than 90 seconds.
Global 8 controllers work with up to eight 1100-Series Exacta® 2 digital torque wrenches, 2.4 GHz preset torque wrenches.
A large and readily-visible display assures the operator is always aware of the status of each tightening, the progress through each batch of fastenings, the correct tool for the currently-active fastener, and other information required to assure the fastening is properly performed. The audio tone for a reject is different than that for a fastener that has been tightened properly.
The Global 8-Ethernet torque controllers all have Ethernet ports, and one of the four available communication protocols pre-installed at the factory. Available protocols include: Atlas Copco Open Protocol, Ethernet IP, PFCS, PinPoint and ToolsNet. The lower display and keypad provide a Human-Machine Interface for programming elements of the communication with your manufacturing or production software programs.
These units all have relays and a port for connection to your 24 VDC control system, and are capable of fixed or variable sequencing if desired.
When multiple tools of multiple types, or many tools of the same type must be used at a single cell or station, one of the Global 8-Ethernet family of controllers is likely the optimum controller for that location.
As you look to upgrade your quality efforts in torque, the Global 8 and the 1100 Series Exacta 2 wrench and the 2.4 GHz wireless clicker wrenches are your key to better quality.
---