Preset Torque Screwdrivers
Product Announcement from Sturtevant Richmont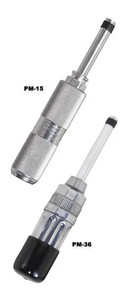 Features and Characteristics
Bi-directional Accuracy of +/- 6% Indicated Value from 20% to 100% of capacity meets or exceeds ASME B107.300-2010 and ISO 6789.
Incredibly durable; many owners have experienced a service life of 10+ years!
Operator cannot overtorque. Clutch releases automatically when desired torque has been achieved.
Preset torque using torque tester, lock setting and insert bit to use.
Can be set in any unit of torque measurement.
Long shaft for use in limited-access applications.
Uses standard bits, adapters and sockets - 1/4" female hex drive
Polished aluminum exterior.
Anti-backlash design enhances repeatability.
Can be ordered preset from factory with certificate of calibration from our ISO/IEC 17025 Accredited Calibration Laboratory.
Part Number and Model - Ordering Information
Part No.

Model

Range

Length

Weight

Grip Dia.

810007
PM-5
20-100 in. ozs.
14-70 cNm
1.44-7.2 kgf•cm
5.5"
0.25 lb.
0.8"
810064
PM-15
3-15 in. lbs.
0.33-1.65 Nm
3.44-17.2 kgf•cm
6.3"
0.3 lb.
1.0"
810563
PM-36
7.2-36 in. lbs.
7.8"
0.5 lb.
1.4"
Related Technical Information
Instructions
857121
Related Pages
VeriTorq® Digital Torque Tester
Torq-Tronics® Digital Torque Tester
Color Code Bands
---