Torq-Tronics2® Digital Torque Tester
Product Announcement from Sturtevant Richmont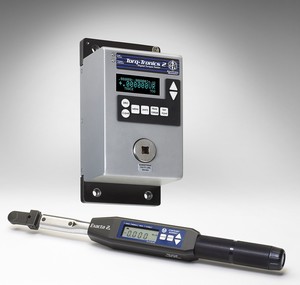 Finally! A torque tester that has something important to tell you at critical moments. Torq-Tronics 2 is designed with Fail Safe Engineering to protect your quality and reputation. How? When pulled to over 120% of capacity, Fail Safe Engineering activates. What does it do to tell you something could be wrong?
The Torque Indicator LED constantly flashes red as long as power is supplied.
If power is distrupted the LED flashes when power is restored.
Track mode stops operating.
The top line of the display says "OV 120% Capacity".
Test result of OK/NG no longer works on display on or reports.
Secondary memory activates, records over capacity data and cannot be erased.
If employee tries to erase memory, the display says "OV 120% Capacity See Supervisor"
Each test, post overload, is identified with an OVL until the tester is checked and reset.
Removing the overload flag is controlled, yet fast and easy via Hyper-Terminal.
Fail Safe Engineering protects the integrity of your process, your quality, and your reputation.
Applications
The Torq-Tronics® line of Digital Torque Testers is ideal when:
Clicker or camover type torque wrenches, or torque screwdrivers, need to be calibrated.
An inexpensive and versatile tester for intermediate checks of torque tools is needed.
Non-impacting power tools need to be tested.
Simplicity of operation is desired.
Protecting the integrity of your testing program is vital.
Many customers consider this to be a "twofer." Accurate enough to calibrate many tools, yet inexpensive and durbale enough to be used as a daily tester for simple checks between calibrations of all types of tools. A special power tool mode with 10 testing filters comes standard.
Features and Characteristics
Accuracy of +/- .5% of Indicated Value from 10% to 100% of rated capacity meets or exceeds requirements of ASME B107.300-2010.
Four modes of operation - Track, Peak, Initial Peak and Power Tool
Power tool mode has 10 testing filters.
Units of measure include English, Standard International and metric.
Units of 300 inch-pound (34 Nm) capacity and below are optimized for bench mounting; larger units may be mounted vertically or horizontally.
Torq-Tronics 2® is amazingly simple to operate!
Electronics module with large display is easy to read.
RS232 serial port for output of test results to computer or laptop - immediate documentation of test results! USB adapter supplied with tester.
Interfaces with Hyper-Terminal as well as Putty, to download test data into Excel for storage and analysis.
Includes FREE certificate of calibration from our ISO/IEC 17025 Accredited Calibration Laboratory!
Includes 120-240 VAC to 6 VDC screw on converter for stability during power tool testing.
Used as an interim tester it can reduce or eliminate needless calibrations for an excellent ROI.
For more information about how Torq-Tronics 2 can help you gain real control of your torque testing program email us at customerservice@srtorque.com
---