EvoLink™ Intelligent Gun Technology
Product Announcement from Oerlikon Metco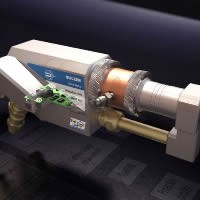 "The benefits of the Evolink system are easier operation, better process accuracy and less chance for setup error."
Sulzer Metco - A new era in thermal spray processing has arrived with intelligent spray gun technology from Sulzer Metco. Imagine, thermal spray guns and controllers that actually talk to one another, collect data automatically and give feedback that will simplify your thermal spray process and improve process reliability!
Sulzer Metco's EvoLink Intelligent Gun Technology addresses the industry's need for more accurate thermal spray data with critical measurements taken at the gun rather than at a distance from the spray process.
Why do you want EvoLink Technology?
Until now, critical gun parameter values were taken at a distance from the gun. The longer the length of the hoses and cables, the greater the error. With EvoLink, these values are taken at the gun and the data is accurate each and every time. And, your gun is smart because it will identify itself to the controller and maintain its own database of information, automatically on-board the gun.
Benefits of the EvoLink Technology
High precision, measured at the gun for greater process accuracy and reliability
Gun data is not dependent on hose and cable length
Switch guns from system to system with reproducible results and without parameter adjustment
The gun identifies itself to the system, improving
On-board record of run hours and maintenance optimizes spare parts management and quality control
On-board gun operational limits eliminates gun failure as a result of out of bounds parameters and enhances safety
Automates system setup and configuration
---