Cost-Effective Deep Hole Drilling System
Featured Product from Sunnen Products Company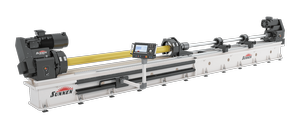 Sunnen has long been the global leader in bore sizing and finishing technology. Now, the company you've come to trust offers a cost-effective deep hole drilling system, the SHDD Series.
Sunnen's SHDD Series Systems Give You Control and Efficiency
SHDD Series systems can achieve tight diameter control, straightness, and superior surface finish in a variety of workpieces and materials from aluminum to super-alloys.

The heavy-duty SHDD series includes:

The latest system controls that will allow users to achieve their manufacturing tolerances and production requirements reliably, accurately, and efficiently.
Minimized workpiece change-over and run times to ensure profitability.
A 3-year warranty backed by Sunnen's extensive global service and support network.
For more information, contact us today.