New Battery-Powered Welder for Extreme Remote Jobs
Featured Product from Sunstone Engineering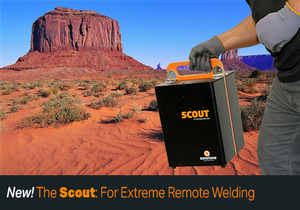 Sunstone announced the introduction of a new battery-powered, portable welder, the Scout, designed for extreme remote job sites.
The Scout is a capacitive discharge, fine spot welder that can deliver as much as 100 Ws of power using its onboard battery. Designed for portability and capability, the Scout weighs less than 12 kg yet delivers up to 2,000 welds at 30 Ws and 650 welds at 100 Ws. The Scout is an ideal welding solution for strain gauges, crosswire welding, thermocouples, or wherever a fine spot weld is required in a hard-to-get-to location. The Scout can remain in stand-by mode for up to six hours per charge and can be recharged in about three hours.
For more information visit our website.