Electromechanical Packaging & Test Development
Service Detail from Suntron Corporation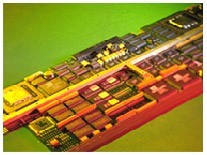 Electromechanical Packaging & Test Development from Suntron Corporation
Suntron's Product Engineering Services team offers customers vertical integration of complex-electronic product and system level designs including analog, digital, hardware, software, mechanical, and analytical solutions.We provide complete solutions from concept to volume manufacturing, and act as an extension of your development team for collaborative product development efforts.
Suntron's development approach enables customers to launch their products at the lowest cost, on time, and to specification.
Our team's focus is industrial and mechanical design, system integration, and test development which serves customers in the aerospace / defense, communications, medical, industrial, semiconductor equipment, and test and measurement industries.
Suntron is "Quality Customer Service; Cost Reducing Solutions."
Suntron Corporation
2401 West Grandview Rd.
Phoenix, AZ 85023
Phone:(602) 282-5085
(888) 520-3382
---