Custom Manlifts and Custom Workstations
Featured Product from Superlift Material Handling Inc.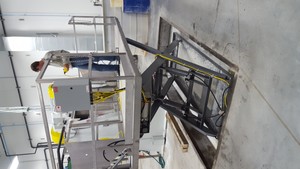 SUPERLIFT can supply custom manlifts, stainless manlifts lifts, specialty manlifts, lift trucks with manlifts and custom elevating work stations
For Elevating men to the work assembly area or for maintenance operations where large structures, amd other equipment, must be accessed at elevated or varying heights. Superlift offers custom mobile manlift and worker platforms for production lines. Standard and Clean room lifts, in stainless steel are also offered for any clean room application
Superlift offers the largest offering of stationary and mobile lifts to meet ANSI standards ladders, these lifts are also ideal for use as carousel lifts allowing workers to pick items from the vertically stacked compartments of storage carousels.
Superlift builds the safest work stations and custom mobile in the industry with built in Manlift standards so that you can always get your people down in an emergency or loss of power. Compare our safety features and design features side by side, we offer superior products for same or less money. Holding valves and superior motor and pump combinations oil lift bearings for long maintenance free operating life. Bolts are used with Stover nuts for safety and easy maintenance and reduced downtime.
Air powered, electrical and battery powered with battery back up, upper and lower controls as well Nema 4X ratings for our control panels when required. Spark proof also available.