Electric Steam Generator...Small Capacity
Featured Product from Sussman Electric Boilers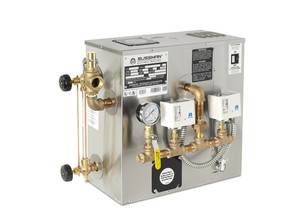 Sussman Electric Boiler - Small size, small capacity Sussman MBA Electric Steam Generators with new 1/2" brass piping manifolds are perfect for applications requiring efficient, high quality steam in laboratories, hospitals, pilot plants and for small, intermittent, low-steam consuming loads.
These generators can be used for standby operations in off-seasons or when a larger boiler is shut down or unavailable. The automatic electronic liquid level controller meets all UL and ASME requirements. A main waterline pressure 10 psig greater than the operating pressure of the steam generator is required for automatic water feeding.
All MBA steam generators are factory tested and are ready to operate.
Safe easy-to-use heat source - no on-site products of combustion.
Easy and quick to install, they require only a water feed connection and electrical hook-up.
Steam available at the flip of a switch.
Applications include: Laboratory use, steam for small tanks, reactions and distillations, autoclaves, food products, jacketed vessels for processing waxes, paraffins, glues, resins and varnishes and woodbending.
Built in accordance with Section I Code M of ASME Boiler and Pressure Vessel Codes,to 100PSIG trim.
UL Listed and CSA Certified.