Advanced Tube Fitting Design - Features & Video
Product Announcement from Swagelok Company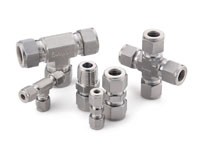 Scientific Breakthroughs, Advanced Technology, Extraordinary Performance
Swagelok tube fittings provides robust, leak-tight connections in a wide variety of applications. The patented design delivers superior grip, sealing and vibration resistance. A patented case hardening process and patented recessed and contoured geometry provide unique engineering to the Swagelok back ferrule. The hinging-colleting back ferrule design expands on the already robust performance of the traditional ferrule design and provides:
excellent gas-tight sealing and tube-gripping action
easily achieved proper installation
consistent remakes
excellent vibration fatigue resistance and tube support
full compatibility with original Swagelok stainless steel tube fittings of identical sizes.
For More Information
Download the Swagelok Gaugeable Tube Fittings and Adapter Fittings catalog.
Find tube fittings and tube adapters in the product search.
---