High Pressure Reducing & Back-Pressure Regulators
Product Announcement from Swagelok Company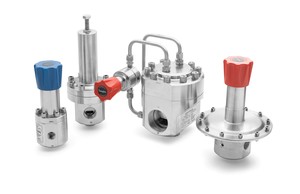 RHPS series high flow pressure-reducing and back-pressure regulators are now available across the globe through authorized Swagelok sales and service centers. Swagelok acquired RHPS B.V., now operating as Swagelok B.V., in April 2010 as part of its strategy to broaden product and services for fluid system customers around the world.
RHPS series products are based on more than 20 years of engineering expertise for applications in the chemical/petrochemical, oil and gas, power, biopharmaceutical, semiconductor, and alternative fuels industries. These regulators are constructed of 316L stainless steel for line sizes up to 4 in., and provide a variety of options.
Key products for pressure control now available through Swagelok include:
Pressure-reducing regulators, including both spring-loaded and dome-loaded models, are designed for general industrial applications.
Back-pressure regulators are available in both spring-loaded and dome-loaded models, and are designed for general industrial purposes.
Specialty regulators include products designed specifically for tank blanketing, pharmaceutical applications, and bulk semiconductor gas delivery.
See the full line of RHPS series products HERE or you can download the comprehensive brochure
---