Tube Fittings - Ease of Installation Video
Product Announcement from Swagelok Company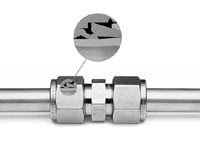 Patented Design: Excellent gas-tight sealing and tube-gripping action, easily-achieved proper installation, consistent remakes, excellent vibration fatigue resistance and tube support, full compatibility with original Swagelok stainless steel tube fittings of identical sizes. Easy to Install - See how in the video further down this page
· Available in tube sizes 1/16 to 2 in. and 2 to 50 mm
· Consistent gaugeability upon initial installation
· Easy to disconnect and retighten
· Wide variety of materials and configurations
Swagelok High-Pressure Fittings
High-pressure fittings are designed for pressures up to 60 000 psig (4134 bar), with both tube and pipe connections available.
Swagelok Medium-Pressure, Gaugeable Tube Fittings and Adapter Fittings
The Swagelok medium-pressure tube fitting offers a leak-tight gas seal and vibration resistance in applications up to 15 000 psig (1034 bar).
Biopharm Fittings, BPE and TS Series
Swagelok­­ BPE series fittings are offered in up to 6 in. sizes in a variety of configurations and can be ordered with inspection by an independent, third-party service to verify compliance with ASME-BPE requirements. Swagelok TS series biopharm fittings feature controlled gasket compression to prevent gasket extrusion and fluid holdup.
Swagelok­ Sanitary Fittings
Swagelok stainless steel sanitary fittings are available with 3-A–compliant, ISO 2852-compatible sanitary clamp connections, as well as a variety of specialty end connections in 1/2 to 12 in. sizes.
---